What is mango wood?
, by Cloe de Vries, 2 min reading time
mango wood! Is that wood from a mango tree? Correct! It is now widely used for furniture. But why exactly? What are the characteristics of mango wood? Where is it from? How sustainable is mango wood? Interior explains. Read on quick!
Mango wood, which is extremely popular in the Netherlands, is a species that is strong and durable. It comes from the mango fruit tree. This tree grows mainly in Southeast Asia and Australia. In India, the mango fruit stands for prosperity, luxury and wealth. Most mango wood furniture that is shipped to the Netherlands comes from India.
Mango wood basically has a warm color, but there may be deviations due to the color shades in the wood. This is part of the type of wood, and is therefore not a deviation from the product you may want to order. It is also possible that there is a yellow glow over the leaf. This is also part of the product. It gives furniture a robust and graceful appearance. In addition, each piece of furniture is unique!
TREE GROWTH AND CUTTING
Mango trees grow well in tropical and subtropical climates with humid, hot summers and cool, dry, frost-free winters. A mango tree grows quite quickly. In this short period the tree can grow up to 40 meters high. The trunk can grow to 3 to 5 meters in circumference. The fruit production is good in this first period. As the tree ages, fruit production also declines. Therefore, this tree on the mango plantations is economically less valuable. The solution for mango farmers is then: cut down and replant. Because of this way of working, the wood of the mango tree can be called sustainable. After all, forests are not just cut down. After its life as a food producer, the wood gets a second life as furniture.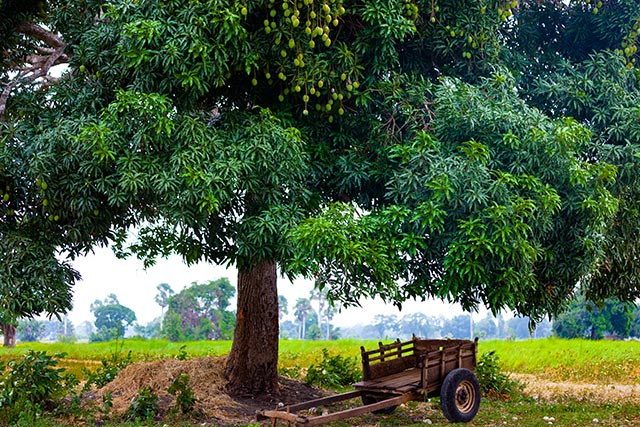 MAINTENANCE
How should you maintain mango wood? We are often asked this question. Basically being all furniture which Interiørynl sells from mango wood treated against moisture and stains. These products require little maintenance. Do you still want to treat the furniture? Then we have special ones there Wood Care Kits for. Other well-known and frequently used options are: beeswax or transparent (or other) lacquer. Beeswax is a natural product without chemicals. Keep in mind that your mango wood product may become slightly darker. The grain becomes a little more visible with beeswax, and the wood starts to shine a little more. A wooden piece of furniture will 'live' with beeswax. A transparent matte clear coat is another option. With this you paint a hard layer on the furniture, so that the furniture does not 'live'.
WHY BUY MANGO WOOD PRODUCTS?
- Mango wood has a robust appearance. It fits perfectly with contemporary industrial vintage furniture.
- Mango wood is used in a sustainable way. Buy green!
- Mango wood is very affordable. Therefore always pay the best price for solid wood.
INTERIØRYNL OFFERS THE FOLLOWING MANGO WOOD FURNITURE:
Dining tables

Coffee tables

Side tables

Bookcases

TV furniture

sideboards
Tags
---
, by Author

Article title

, by Author

Article title

, by Author

Article title