Advantages furniture made of acacia wood
, by Cloe de Vries, 3 min reading time
An acacia wood piece of furniture is a showpiece in your interior. Did you know that acacia wood furniture offers several benefits? In this blog you can read why furniture made of acacia wood is so great. Are you reading along?
WHAT IS ACACIA WOOD ACTUALLY?
Acacia wood comes from the acacia tree. The acacia tree originally comes from North America, but has also been found in the Netherlands for a number of years. The tree can grow up to 6 to 8 meters high. This is one of the reasons why acacia wood is often used for industrial dining tables. Acacia wood is also characterized by the beautiful color changes, the flame drawing and the fine grain. Acacia wood radiates a lot of warmth and that is why it is also a frequently chosen type of wood for furniture.
THE BENEFITS OF ACACIA WOOD FURNITURE
Acacia wood is strong
Beautiful color changes
Lasts a long time
Massive and heavy
Trendy and in line with current interior trends
Easy to care for
Ideal for combining with other materials, furniture and colours.
ACACIA WOOD IS A STRONG WOOD SPECIES
An additional advantage of acacia wood is the strength of the wood. The type of wood is very strong and also very heavy. Many dining tables are made of acacia wood. The tops of the dining tables have beautiful color schemes and are made of very solid wood. If you choose an acacia wood dining table, it will certainly last a very long time.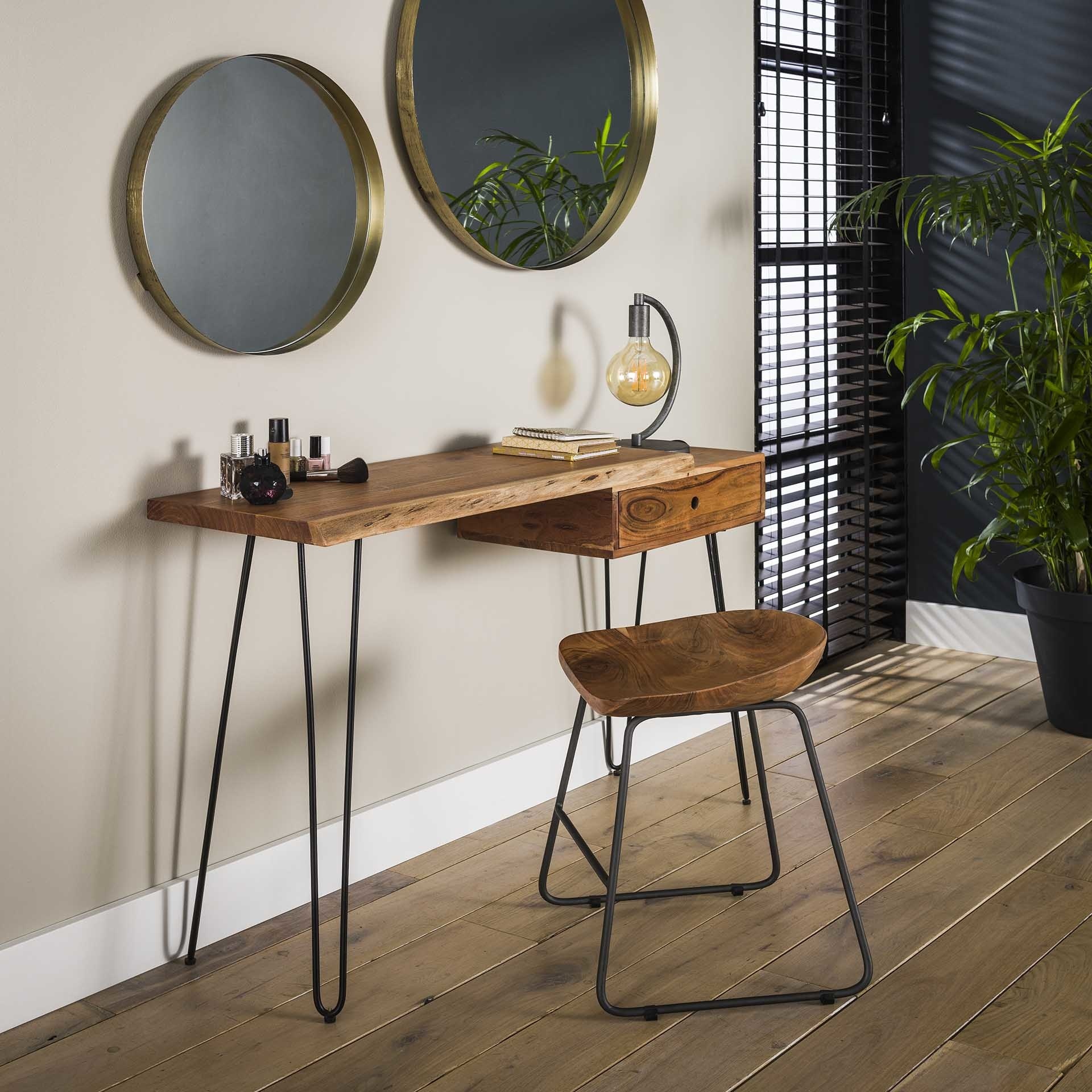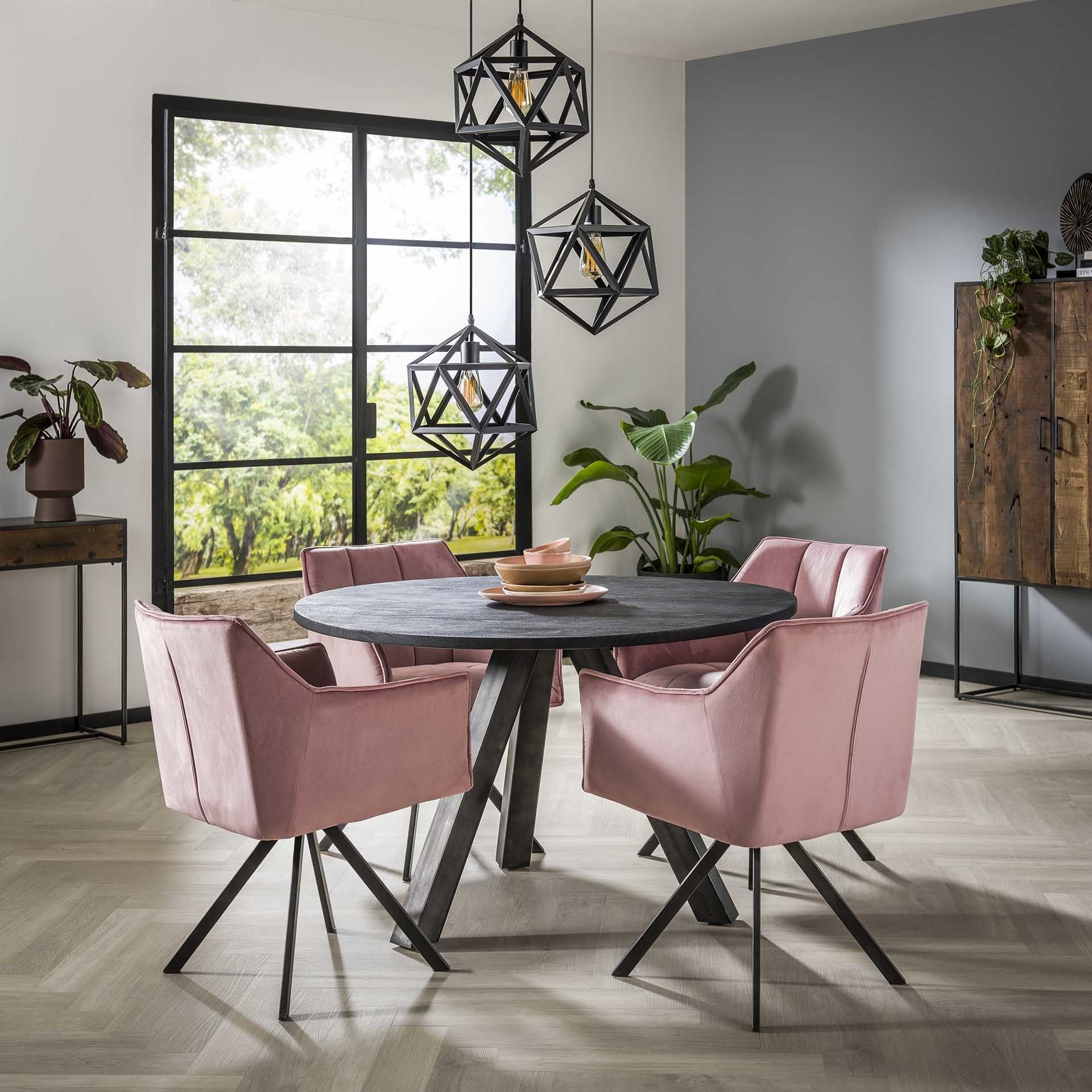 FURNITURE MADE OF ACACIA WOOD ARE TRENDY
Although furniture made of acacia wood lasts a long time, it remains trendy. Acacia wood furniture has a modern look and fits all interior styles. If you are looking for a trendy, durable and modern piece of furniture, consider furniture made of acacia wood. You will be able to look at this piece of furniture for years and always discover something new in the characteristic wood.
WHAT ACACIA WOOD FURNITURE ARE THERE?
Another advantage of acacia wood is that this type of wood can be ideally combined with other furniture, types of wood and colours. That is why furniture made of acacia wood is a good addition to your interior. A lot of furniture is therefore made of acacia wood. Think of one coffee table acacia wood or a bar table made of acacia wood. One of our favorites is the bedside table made of acacia wood. Also a TV cabinet made of acacia wood will not look out of place in your interior. Of course there are even more pieces of furniture made of acacia wood. You will find the endless combinations on our website !
OUR FAVORITE: THE ACACIA WOOD DINING TABLE
At Interiøry we also have a favorite piece of furniture made of acacia wood. This is the dining tables made of acacia wood. The dining tables are available in different sizes and shapes. So is one round dining table a beautiful eye-catcher in the dining room, but also a rectangular acacia wood table will not look out of place. Acacia wood is perfect to use for a tree trunk dining table . Thanks to the natural lines and color schemes, you will get a very unique dining table.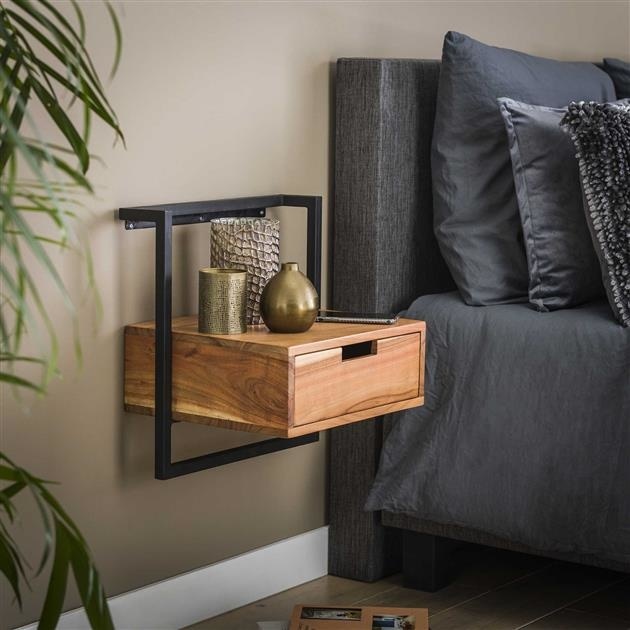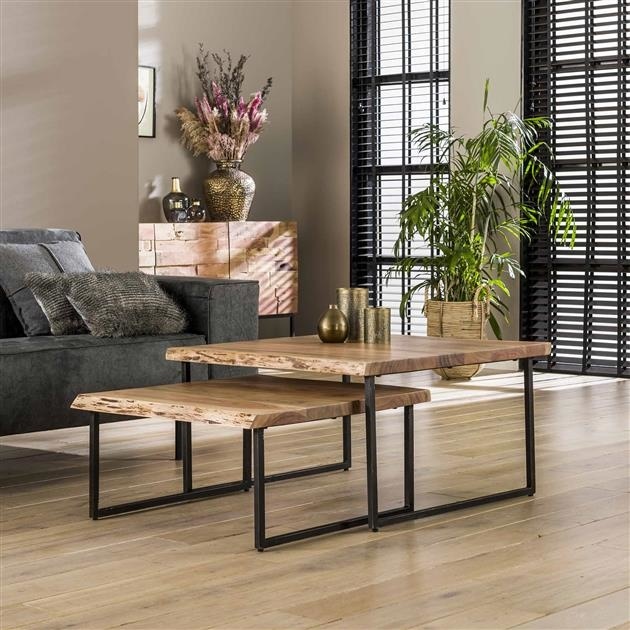 HOW DO I CARE FOR MY ACACIA WOOD FURNITURE?
Acacia wood furniture is easy to care for. The furniture can be wiped with a damp cloth. If you have an acacia wood table, we recommend using coasters when placing pans and cups. If you want to protect your furniture extra well, we recommend treating acacia wood tops with a wood care kit. This care kit specializes in protecting, caring for and cleaning wood for long-lasting enjoyment of your furniture.
BUY ACACIA WOOD FURNITURE AT INTERIØRY
Are you convinced of the benefits of acacia wood furniture? Then take a look at our range and find the acacia wood furniture to your liking! All acacia furniture is competitively priced and will be shipped to your home free of charge. We would like to wish you a lot of fun with your acacia wood furniture.
Tags
---
, by Cloe de Vries

Shopping Awards 2023

, by Cloe de Vries

Moët & Chandon Canal House

, by Cloe de Vries

Advantages furniture made of acacia wood

, by Cloe de Vries

What is Velvet?